This post may contain affiliate sales links. As an Amazon Associate, I earn from qualifying purchases. Please see my full disclaimer policy for details.
This recipe for Cornbread Croutons uses 3 ingredients and is ready in less than 30 minutes. These small, crispy, and flavorful cubes of cornbread that are perfect topping for salads, soups, and other dishes. They add a unique texture and a distinct cornbread flavor while bringing a touch of southern comfort food to your favorite meals.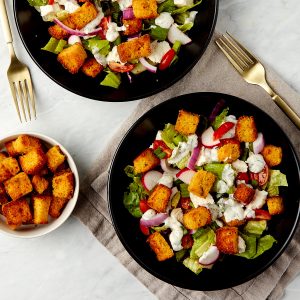 When it comes to adding a tasty crunch to your salads, soups, and chilis, croutons are the way to go. While traditional croutons are often made from plain bread, we are using leftover cornbread to make our homemade cornbread croutons. These golden nuggets of goodness will take your salad and chili to a whole new level.
Why Make Cornbread Croutons
---
Before we dive into the recipe, let's talk about why you should consider cornbread croutons over the classic variety:
Distinct Flavor: Cornbread croutons bring a sweet, nutty, and slightly crumbly texture that adds a unique flavor dimension to your dishes.
Gluten-Free Option: If you or your guests follow a gluten-free diet, cornbread croutons are the perfect alternative to regular croutons. Just use a cornbread recipe that does not include flour.
Versatile: These croutons are incredibly versatile, making them an excellent addition to salads, soups, chilis, or even as a crunchy topping for mac 'n' cheese.
Key Ingredients and Substitutions
---
The ingredients for making cornbread croutons are relatively simple, and they can be easily customized to suit your taste preferences.
In the printable recipe below, you can find a complete list of ingredients and measurements.
Cornbread: We prefer to use leftover homemade cornbread but you can substitute an box or store bought cornbread. You want to use stale day old cornbread for croutons. For a twist try using a green chile cornbread to make croutons.
Olive Oil: You can use any neutral oil such as grapeseed, canola, or avocado oil but we prefer a high quality extra virgin olive oil. The olive oil also aids in achieving that sought-after golden-brown exterior during toasting.
Kosher Salt: The amount of salt is a personal preference so use as little or as much as you like. You can also get creative with a seasoned salt.
How to Make Cornbread Croutons
---
Here are the quick step-by-step instructions with visuals; you can find the full instructions with the exact ingredients in the recipe card below.
Pro-tip: To get extra crunch in your croutons, double toast them. After allowing the croutons to cool after their first bake, toast them again at 225°F for a few minutes.The second toasting dries out any remaining moisture, making the croutons even staler and crunchier.
1. Cube the Cornbread: Using a sharp knife, cut the stale cornbread into bite-sized cubes. The size can vary according to your preference, but aim for consistency to ensure even toasting.
2. Season the Cubes: Place the cornbread cubes in a large bowl. Drizzle the olive oil over the cubes, ensuring they are evenly coated. Sprinkle the cubes with salt or other preferred seasoning. Toss gently to distribute the seasonings, making sure every crouton is flavored.
3. Preheat the Oven: Preheat your oven to 375°F while the cornbread cubes absorb the flavors.
4. Bake Until Golden Brown: Spread the seasoned cornbread cubes in a single layer on a baking sheet. Place the baking sheet in the preheated oven for approximately 12-15 minutes or until the croutons turn golden brown. Be vigilant to avoid burning them.
5. Cool and Enjoy: Remove the cornbread croutons from the oven and allow them to cool for a few minutes. They will continue to crisp up as they cool. Once they've reached the desired level of crunchiness, your homemade cornbread croutons are ready to enjoy!
What to Serve with Cornbread Croutons
---
Cornbread croutons are a tasty addition to a variety of dishes. Here are some of our favorite ways to serve cornbread croutons:
Salads: Sprinkle cornbread croutons on top of green salads, Caesar salads, or even fruit salads for added texture and a unique flavor.
Soups: Float cornbread croutons on top of soups, especially those with a slightly sweet or spicy flavor profile. They pair wonderfully with tomato soup or butternut squash soup.
Chili: Top a bowl of chili, whether it's classic Texas chili, vegetarian chili, bean chili, or white chicken chili, with cornbread croutons for a satisfying crunch and extra corn flavor.
Stews: Cornbread croutons can be a tasty addition to hearty stews like beef or pork stew or gumbo. They soak up the rich, flavorful broth and add a contrast in texture.
Mac and Cheese: Use cornbread croutons as a crispy topping for your mac and cheese. The sweet and savory notes complement the creamy cheesiness of the dish.
Casseroles: Incorporate cornbread croutons into casseroles, such as cornbread stuffing or a chicken and vegetable casserole, to add a crunchy layer to your dish.
Bowl of Dip: Serve cornbread croutons alongside a dip, such as hummus, spinach and artichoke dip, or queso for a unique twist on traditional dippers like chips or bread.
Appetizer Platter: Create an appetizer platter with cornbread croutons, cheeses, charcuterie, and various dips for a diverse and appealing snack assortment.
Desserts: Surprisingly, sweet cornbread croutons can be used as a topping for desserts like ice cream or fruit crisps. Drizzle some honey or a sweet sauce for an extra treat.
Sautéed Vegetables: Top sautéed or roasted vegetables, like Brussels sprouts, with cornbread croutons to enhance the texture and add a crunchy contrast.
Why Aren't My Croutons Crispy
---
If your croutons are not turning out as crispy as you'd like, there could be a few reasons behind it.
Moisture Content: Croutons need to be as dry as possible before toasting. If your cornbread isn't thoroughly cooled or if you've added too much oil or any wet ingredients, the excess moisture can hinder the crisping process. Ensure your cornbread is cooled to room temperature before making croutons. Also, use only a light coating of olive oil, and avoid adding any wet or moist ingredients.
Uneven Toasting: If your croutons are not spread out evenly on the baking sheet or if they are crowded together, some may not get enough heat to crisp up properly. Spread the croutons in a single layer on the baking sheet, ensuring they have some space between them. If necessary, toast them in batches.
Over-Oiling: Using too much olive oil can result in croutons that are too greasy and not crispy. The excess oil can prevent the cornbread from drying and crisping up properly. Use a light hand when drizzling olive oil over the cornbread cubes. You want to coat them evenly but not drown them in oil.
Incorrect Temperature or Time: If the oven temperature is too low, or if you haven't baked the croutons long enough, they won't achieve the desired level of crispiness. Make sure your oven is preheated to the recommended temperature (usually around 375°F) and bake the croutons for the suggested time or until they turn golden brown and crispy.
Fresh Cornbread: Using very fresh, moist cornbread can make it more challenging to achieve crispy croutons. Cornbread that's too fresh might take longer to dry out and toast. If possible, use cornbread that has been baked and cooled for a day or two, or slightly stale cornbread, as it will dry out more quickly.
Storage: Storing croutons in an airtight container while they are still warm can trap moisture and soften them. Allow your croutons to cool completely before storing them in an airtight container.
Storage Tips
---
How to Store: These croutons are best when eaten they day they are made but can be stored in an airtight container for up to a week. Seal the container tightly to prevent moisture from getting in. It is not recommended to freeze or store leftover croutons in the refrigerator since they could be come soft and soggy.
How to Reheat: Leftover croutons should be reheated in then oven for about 5 minutes to restore the texture and crunch.
Recipe Tips and Notes
---
Get creative. Sprinkle the cornbread cubes with paprika, black pepper, garlic powder, onion powder, cayenne, or your favorite herb before baking them.
Use stale cornbread. Freshly baked cornbread will have too much moisture to create dry, crunch croutons.
Other Recipes to Try
---
If you enjoy this cornbread crouton recipe, we recommend checking out some of these dishes to go with them:
Let's Connect! If you make this recipe or any other recipe on Casual Epicure, please don't forget to rate the recipe and leave a comment below. It helps others who are considering making our recipes and we love hearing about your cooking experiences. And if you snapped some shots, share them on Instagram, and be sure to tag @casual.epicure so we can feature them in our stories.
Cornbread Croutons
This recipe for Cornbread Croutons uses 3 ingredients and is ready in less than 30 minutes. These small, crispy, and flavorful cubes of cornbread that are perfect topping for salads, soups, and other dishes. They add a unique texture and a distinct cornbread flavor while bringing a touch of southern comfort food to your favorite meals.
Ingredients
2

cups

cubed day-old cornbread

1

tablespoon

olive oil

½

teaspoon

kosher salt
Instructions
Preheat oven to 375°F. Line a baking sheet with parchment paper and set aside.

Place the cubed cornbread in a large bowl. Drizzle with olive oil, sprinkle with salt, and toss gently to coat being careful not to break up cubes.

Spread the cornbread cubes in a single layer onto the prepared baking sheet, making sure they are not touching.

Bake until golden brown and crispy 12-15 minutes, turning cubes once halfway through cook time.

Remove from oven and allow to cool for at least 10 minutes.
Notes
1. Nutritional information is only an estimate. The accuracy of the nutritional information for any recipe on this site is not guaranteed. The nutritional value will vary based on the type of ingredients used (example: cornbread recipe, neutral oil, seasoning). It does not include the nutrition for any substitutions or additions. 2. Be sure to check out the Key Ingredients along with the Recipe Tips and Notes sections found in the post, for more tips, options, substitutions, and variations for this recipe! You will also find step-by-step photos.
Did you make this recipe?
Tag us on Instagram @casual.epicure to be featured on our stories!